Accidents are Tough.
Getting Back on the Road Shouldn't Be.
Walk away from that fender bender—without any out of pocket cost! With the Carefree Auto Card, we'll reimburse you up to $1,000 annually for comprehensive and collision damage!
Get on with your life and let us handle the deductible
You may be the safest driver, but you're not the only one on the road and accidents happen. Don't get caught paying for everything out of pocket—get deducible reimbursement from Carefree Auto.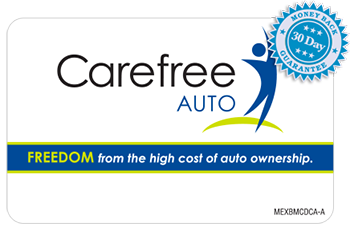 Reimbursement for comprehensive and collision damage (but not a total loss)
Up to $500 per loss
Up to $1,000 towards your deductible annually
It doesn't matter how safe or responsible you are as a driver—auto accidents can affect anyone. Though we like to think that obeying the speed limits and checking our blind spots makes us immune to car accidents, there is still an inherent risk every time we start the engine. We can control these risks by not engaging in behaviors like texting while driving and driving under the influence of alcohol, but sometimes factors outside of our control cause serious accidents. In fact, the most common cause of personal injuries in the United States arises from auto accident claims.
Rain, sleet, ice, and snow also have the ability to make our cars collide with other drivers when we least expect it. In the end, even a low speed collision due to slick weather conditions can require extremely costly repairs.
To make matters worse, auto accidents never happen at a time that's convenient. When you run into trouble and have an unexpected auto accident, getting your car repaired without greatly affecting your daily schedule can be very burdensome. The surprise expenses resulting from a car accident can ruin your monthly budget and create a real challenge when it comes to making ends meet.
The Good News
However, there is good news. There is an extremely affordable way to protect yourself from the surprise of costly auto repairs due to collision or comprehensive damage. Carefree Auto offers a membership program that can drastically help offset the costs of auto repairs that covers you in the event of comprehensive and collision damage claims.
We've all heard the age old adage that says an ounce of prevention is worth a pound of cure. Because auto accidents and collisions happen so frequently—the average American files a claim every three years—you are much better off protecting your financial future by gaining membership than risking completely paying your expenses out of pocket. For the vast majority of Americans, it's not an issue of if you will have claim, but rather when you will have a claim. As a Carefree Auto member, we'll pay you back as much as $1,000.00 toward your annual deductible when that happens. However, understand that this is only applicable when you don't experience a total loss, and applies to vehicles owned or leased by the member and covered under the member's auto insurance policy.
When your claim is filed and paid by your primary auto insurance, we'll pay you up to $500.00 per loss. In many cases, this payment, plus the payment from your auto insurance company, could very well cover the cost of your collision repairs. In other situations, the payment could drastically reduce the total amount you have to pay. This membership program can make it much easier to manage your expenses when you need collision or comprehensive damage repairs.
Protecting Your Future
We know that car accidents can be tough, and facing expensive auto repairs is very stressful. But we believe that paying for the necessary repairs and getting back on the road shouldn't be as damaging as the accident itself.
Rather than pay for your car repairs completely out of pocket, get up to $500.00 back for comprehensive and collision damage. With Carefree Auto, you can reduce your repair costs and get back on the road with peace of mind!